The Graco ThermoLazer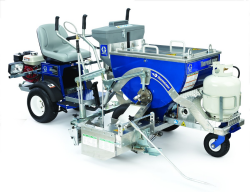 The Graco ThermoLazer Features:
ControlFlow System - Precise material flow control with a squeeze of a lever.
SplitBead System - Split hopper holds over 90 lbs (40 kg) of beads and dispense system allows fast and flexible line width changes without tools.
SpringGuard Protection System - Extends spring life plus no-tool removal and installation.
EasyGlide System - First thermoplastic line striper with dual rear wheels and Fat Track Front Swivel for smooth LineLazer-like handling.
HighCap Hopper System - 20-50% larger for fewer refills. 300 lbs (136 kg) material capacity.
SmoothRide Tires - High-load pneumatic tires provide excellent maneuverability and less rolling resistence.
Optional Double-Bead Drop System Kit installs in minutes.
LineDriver Compatible
Why walk when you can ride! Attach a Graco LineDriver to the ThermoLazer and:
Improve production up to 50%
Reduce user fatigue
Achieve higher line quality
Use the industry's first ride-on compatible handliner
Ride-on Option:
Why walk when you can ride! Attach a Graco LineDriver to the ThermoLazer and:
Improve production up to 50%
Reduce user fatigue
Achieve higher line quality
Use the industry's first ride-on compatible handliner